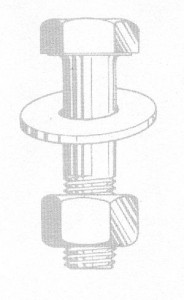 Page Industrial Supply Inc. was founded in 1986.  Over the past 30 years, we have been a leading distributor of bolts and fasteners in the United States.
Our products range from the popular, common sized bolts & nuts to highly specialized fasteners requiring strict tolerances for specific jobs.  Our main headquarters and warehouse are located in Salt Lake City, Utah.  From there, we service customers throughout the United States as well as Canada and Mexico.  We also have locations in Las Vegas Nevada, Phoenix Arizona, and Seattle Washington.  Our customer base ranges from the largest steel fabricator in the United States, regional steel fabricators,  local machine shops,  and several large OEM companies.  We also specialize in the Mining industry supplying them with Liner Bolts, Push Pins, and all types of fasteners.
The management of Page Industrial consists of a President with 39 years in the fastener business, and a Operations Manager with 30 years of experience.  Our sales force combines for over 65 years in the business.
Download Credit Application
Credit Application